Scolari: The worst day of my life
Brazil coach Luiz Felipe Scolari said his side's stunning 7-1 thrashing at the hands of Germany in their FIFA World Cup™ semi-final on Tuesday had been the worst day of his life.
"I think it was the worst day of my life, but life goes on," said the 65-year-old. "I will be remembered as the coach to lose 7-1 but I knew that risk when I took the job and life goes on so that is what I am going to do."
Brazil were swept aside by a stunning start from the Germans as goals from Thomas Muller, Miroslav Klose, Sami Khedira and two from Toni Kroos put them 5-0 in front inside the opening half hour.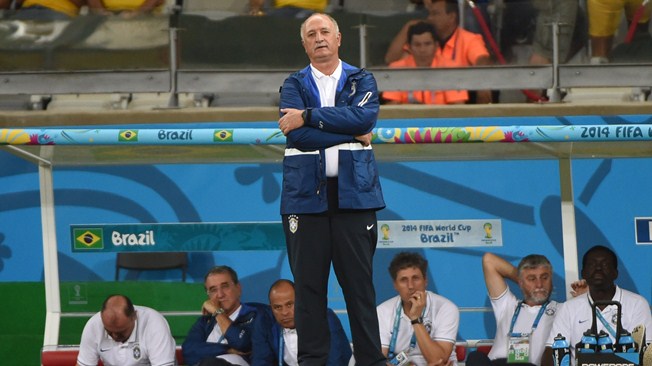 Andre Schurrle added two more goals for the Germans after half-time before Oscar's late consolation for the hosts.
"My message for the Brazilian people and fans is that we did what we could do and we did what we think was our best," added Scolari. "We lost to a great team with great skill that took six minutes to change the game with four goals in an extraordinary manner.
"Please excuse us for this mistake. We are sorry we could not get to the final and we will honour the team in the third-place playoff in Brasilia on Saturday."
Scolari accepted responsibility for the defeat, but gave no indication as to whether he intended to stay on as Brazil coach after the tournament.
"Who is the one responsible? I am. This catastrophic result can be shared with the whole group because that is what my players say and want, but I am the one who chooses the tactics, the lineup, so the person responsible for the result is me."
Scolari asked for forgiveness from his countrymen after the historic result. "We ask for forgiveness," a shellshocked Scolari said after Brazil were torn apart 7-1 in their semi-final meltdown. "To the people, please excuse us for this negative mistake."
The 2002 World Cup-winning coach took full responsibility for the performance. "I'm responsible for what the team does out on the pitch – and I am to blame for this result," he said. "I'm sorry we could not reach our goal. The fans supported us even when it was five, six, or seven down to Germany.
"It's not normal to concede four goals in six minutes but it can happen. Even Germany couldn't believe what was happening."
Looking forward
Scolari said that Brazil now had to concentrate on recovering from pride in the third-place play-off in Brasilia on Saturday. He said: "The atmosphere in the changing was terrible. Obviously. But what can you do? We'll have to change things, our environment, when we go back to our base ahead of Saturday's match.
"No one expected that result and now we must work on the mind-set. We have to improve our motivation for the match on Saturday. We have to do our jobs, knowing that history goes on.
"Most of these players will continue to play in their high-level teams and will be capped again. Life goes on. It doesn't end with this defeat."
Scolari also rejected the suggestion that Neymar's serious injury, and the emotion created by his absence, had played a key part in the defeat. "No, no, no. Let's not try to find an excuse in Neymar or the emotions of the anthem," he said.
"What happened was Germany imposed a fantastic rhythm on the game. They were able to score the goals to define the match. That diminished my team. Those six minutes of trouble, Germany made use of those moments.
"I don't think it would have been different with Neymar. He's a striker. Germany probably could have done that with Neymar in the side, also. He wouldn't have known how to defend those moves for the second, third, fourth and fifth goals."
Courtesy: www.fifa.com
Photo Courtesy: AFP