Our Son Has Given His Life to Don Bosco School of Shirva: Late Fr Mahesh's Parents
Interviewed by: Donald Pereira, Editor, www.Budkulo.com
English Translation by Vijay DSouza, U.K.
This interview is the translation from the Konkani version published here before. Since many who don't know Konkani had requested for the same, we are hereby presenting the conversation we had with deceased Fr Mahesh DSouza's parents in English. Fr Mahesh DSouza was the Principal of Don Bosco CBSE School in Shirva, Udupi District of Karnataka state in India. He was found dead hanging mysteriously in his office on October 11, 2019.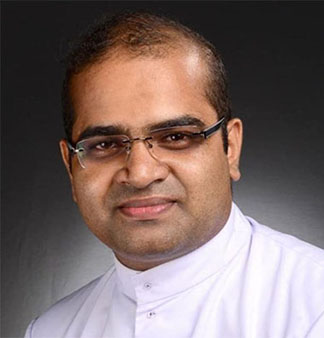 People say such an incident had never occurred in the undivided Diocese of Mangalore, perhaps not even in the whole of Karnataka. A priest, who was adored by the masses because of his active and friendly personality, suddenly passes away under mysterious circumstances. His death and subsequent related events have shocked both his family as well as his admirers, with the mystery deepening day by day. However, there have been no satisfactory answers forthcoming for all the doubts and questions. The Catholic community of Mangalore has been in a state of shock since the death of Fr Mahesh. The sudden demise of a Priest is not unusual in itself. Nevertheless, a Priest dies under mysterious circumstances, and the behavioral pattern of the people closely associated with the deceased person becomes so dubious, such an incident has probably never occurred on this soil before.
It was evident that when the young Principal of Shirva Don Bosco School died, he had accumulated so much more love and respect that even few seasoned priests could not aspire to. That was his claim to greatness, proof of his humility, a mirror to his love towards the less privileged. His was a warm persona, he was a honest and a good priest. More than anything, he strived to live a life worthy of representing Christ.
When such a talented person who had ambitious plans for the school and was actively striving to fulfill them dies suddenly, in almost a bizarre fashion, people who knew him closely, simply could not digest what had happened.
What was even more baffling was the reaction and manner of his associates at this very shocking incident. It was extraordinarily mysterious! Wasn't it for the same reason the parishioners and his admirers took to the streets? How did this happen? Why were people so upset?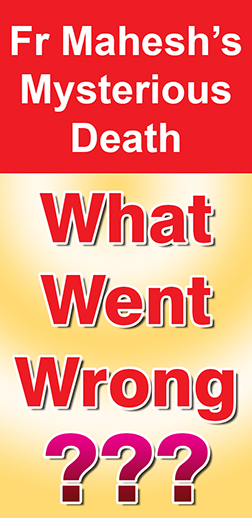 Dear readers, you know we are on the side of truth and justice. Moreover, you are aware that we strongly oppose injustice and we never compromise on it. We have a duty to comment on the main incidents affecting our community. In that spirit, we have debated on many aspects related to the death and aftermath.
Through the local as well as social media, you may have come to know numerous developments since the death of Fr Mahesh. And may be you understand the reasons behind the display of impatience by the local Catholic community.
But at the outset, what bothers everyone is why was no compliant filed with the police after an unexpected and unnatural death of a prominent priest. Why weren't church bells not tolled at this crisis point, which is a very common practice in the church? Untangling the sequence of key questions has become desperately complicated. Because of this confusion, people have been in the dark for three weeks. Ultimately, people had to ask what was the status of the enquiry.
That's right, people waited for three weeks. It began to look like the authorities were earnestly trying to convince people, that the death was not unnatural. When people began probing, the explanations provided strengthen their suspicions about the deepening mystery. Naturally, people began to crave for justice.
The people who gathered to protest in the church premises were not strangers. Their presence in large numbers was a testament to the fact that Fr Mahesh was a good, honest priest and people were impressed by his good work and caring persona.
As people suspected that the death was rather mysterious and since actions of Church authorities fanned these suspicions, they were troubled. The people assembled didn't seem to come prepared with a conspiracy to rouse trouble. People who came to offer holy mass and visit graves, were definitely not of an unruly nature. Neither did they come prepared with tools to engage in a fight, nor did they lay hands on anyone. Their intentions for assembling in the church premises seems to have been solely to pray for the souls of their dead relatives on All Souls Day.
You may be aware that since the death of Fr Mahesh, many events have taken place. It's not possible for a responsible media outlet like 'Budkulo' to flee from the uproar by remaining quiet, hidden on the sidelines, shutting it's eyes. In that regard we tried to know the truth and understand reality. Therefore, in order to understand the chain of events from the perspective of Fr Mahesh's parents, we decided that it is vital to know their side of the story. Accordingly, we have placed before you the resulting conversation that took place.
That said, we want to make clear our intention and objective behind this. The way the people of Shirva are striving to know the truth and fight for justice, the way Fr Mahesh's family try to understand what really happened to their deceased relative, Budkulo too is voicing its opinion in the same manner. Because the death of Fr Mahesh is mysterious, the confusion and suspicions related to it must be resolved. This is our sole purpose. How is that we have reached a situation where we cannot categorically say if the death occurred because of suicide or murder.
It's not our intention to hurt anyone in our desire to get justice. Anyone who had raised a question on the circumstances surrounding the death of Fr Mahesh, not accused anyone for his death. Our intention is clear, we are not against any one. This is not an attempt to point fingers at someone. (However, if this article pricks someone's conscience, they themselves are to be blamed!).
So, read what parents of Fr Mahesh have to say. Living their retired life in Manipal, Mr Frederick D'Souza and Mrs Matilda D'Souza are distraught wondering why their son met such an unfortunate end. They have shared their feelings with Budkulo with utmost sincerity and trust. They are sure that Fr Mahesh lived a virtuous life without a blemish on his character. While his talents, work ethic, perseverance brought him respect, they are struggling to understand why his life should have ended in such a cruel manner. This tragic incidence has caused them great distress and has left them in a state of shock.
So let's hear from them. This will reveal lot of facts, that you may not have been aware of. Remember them in your prayers and pray for justice for Fr Mahesh, so that your prayer will reach almighty as well as the concerned authorities.
-Editor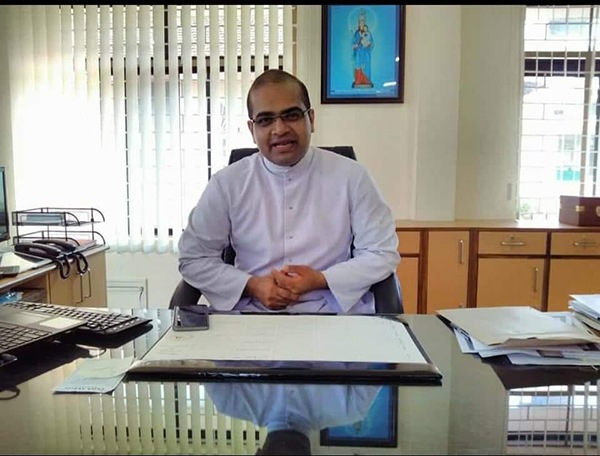 Budkulo E-Magazine: We hear that your son, Fr Mahesh was good priest. In that regard a lot of things are said in the public domain. Even though he came from an educated and well off family, he was a simple man, with lot of care for poor and the downtrodden. There are instances he borrowed money from home to pay for poor children's school fee and to provide salary for few school employees. Could you please elaborate on this…
Mrs Matilda D'Souza: He grew up in an environment with a caring attitude towards someone in need; he learnt that at home. In order to increase the student number, he used to subsidize poor students' school fees.
Budkulo: We have also heard from many that he used to help others by borrowing money from home…
Mrs Matilda: For the school building construction he had taken money from home. We used to provide him specific amount of money every month for his personal expenses, likewise on special occasion like his birthday or feasts we used to give extra money. May be he had used that to help others. Although he never told us as much, we have heard from others that he used to help many students.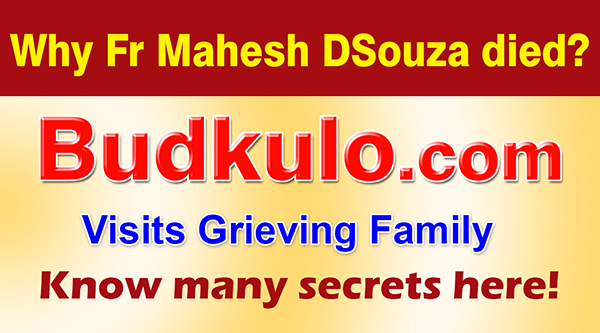 Budkulo: People say he was a humble and caring priest…
Mrs Matilda: He was humble and he had a lot of concern for people in difficulty. He routinely used to visit the sick, take communion to elderly and housebound; he was also in the habit asking for blessings from elderly. May be by looking at these things people loved and admired him.
Budkulo: Did he ever confide in you about his difficulties or problems?
Mrs Matilda: As he would not often visit home, he would not tell much of his problems. He would come when his brothers were visiting; even then would hardly stay at home. The one time that he told us about of his difficulties and wept was when an anonymous letter about him was circulated. It was a letter addressed to the Bishop, allegedly on behalf of Shirva parishioners, as suggested by signature which read: Parish community of Our Lady of Health. But he never divulged what the letter was about, except that some malicious things were written about him and that caused him enormous distress. It happened in November 2018 and it had greatly disheartened him. I had consoled him a lot on that occasion asking him to take courage. On that occasion when I asked whether there was a breakdown of interaction between him and the main parish priest, he didn't say much except shake his head. He did not say anything against the priest. We had said, "Son, even Jesus suffered; this will not be like this for long; things will improve; take courage; if you have to tell anything, report it to your superiors." He also didn't say if the Bishop had enquired about the matter with him.
Anonymous letter has no credence. No one takes it seriously. However I wondered how is it possible that everything in the letter, from A to Z, was about him; the letter had accused him of things explicitly naming him.
Budkulo: What were the accusations in the letter?
Mrs Matilda: "Wolf in priest's clothing; travels around as if a king; you sent him for the school, under the guise of CBSE he burdened teachers and students; says he spent 10 crores, but doesn't look like from the work carried out; he has hidden money in crores, he has lead the youth of choir astray by indulging in politics…" were some of the accusations.
Since May 2016 till 2018 November wherever he went, he was involved in teaching the choir. He was a good musician. Never heard of any complaints against him all these years, what changed so suddenly in November 2018. He was sent to Shirva by the Bishop on the request of people of Shirva as they had expressed an desire to have CBSE school. He was sent there because of the parishioners' specific demand asking a young and energetic priest. He had to put lot of hard work, which he undoubtedly carried out.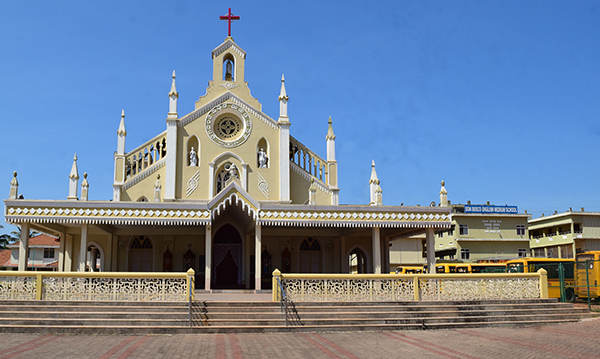 "Our current parish priest is very caring, he doesn't help the parish priest a bit…; if this burden in the form Mahesh leaves us, we could somehow would be able to repay the loan of 4 crores… it was mistake to ordain him, he should have been properly investigated before being ordained… if he is not removed from here, we would ourselves bring him to you together with his belongings…" were some of the accusations used in that letter. We don't know who wrote it and for what purpose they did so.
When on Monday, March 25th, we had gone to Shirva priest's house, we had met the Parish priest and assistant priest. We had taken some home cooked food with us. Fr Mahesh was working in his school office.
The very next day we received a mail with a handwritten address on the cover containing that same letter. When I read that letter, it was as if someone had struck me on the head. Mahesh came to know about this. I asked him if this was the same letter that had been distributed before. After reading it, he simply said, 'tear it Mummy'. But, don't know why, I had preserved it.
When I asked some people about this issue, they said its an old matter, and said nothing will happen from it. When I read it, I thought, how could this boy be able to live his life enduring so much. I am not aware if he was called upon by the seniors (Bishop) as part of any investigation on the matter.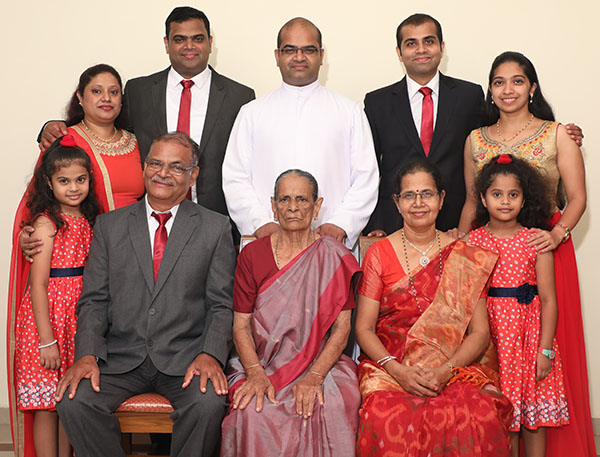 Budkulo: Did you do anything after this incident?
Mrs Matilda: Our son used to not like it whenever we probed him on this. He would never confide in me about any disgruntlement around him. We have heard that he had endured a lot of insults and humiliation. We don't know much about the injustice done to him, but we know it from what we have heard. People have said that he was criticized on choir related things from the altar. Mahesh used to be busy with school related work. But some boys who used to help with food preparations told me at the funeral that he used to weep reading that letter. Close confidants have told me that there were attempts to send him away from the school. Also heard that he has endured a lot of humiliation.
Fr Stany Tauro, in his eulogy had said that Fr Mahesh had been to Delhi and Bangalore several times due to school related work. He is used to drive to Bangalore in his father's vehicle (Scorpio car). Due to his unflinching effort for one and half years the school received CBSE affiliation; this year the first batch of year 10th Standard students will appear for the examination.
He has done everything required as per the CBSE parameters. He received good cooperation from the school management committee. A Mangalorean businessman, Michael D'Souza from Dubai, has even given a large sum of money. I've also heard that Fr Mahesh has repaid majority of the loan. I've heard that there was also a demand to hand over the money to church that was originally received for the school work (we never inquired more on this topic). We've heard from people shouting at the protest that he was ordered to leave and was handed a transfer. We've also heard that on October 11th he was given the news of transfer (we don't know how the news was given to him). There was a seminar on September 28, and Mahesh had reached back after travelling at night at 2 O'clock. Even on that occasion he was insulted not considering his tiredness (please don't share the details with readers). On 29th he visited us and rested awhile after having meal together. He was very occupied with two other scheduled training camps: Jeevan Jyothi and a teachers training. We know there were also some developments related these training camps.
Budkulo: People were saying that he was due to be transferred to Kanajar…
Mrs Matilda: We all know that now. He had no knowledge about any transfer, as he had lot of projections. Like having an auditorium, having the front yard paved with interlocks to prevent muck during rainy season. School related development means a long term plan (other priests are usually retained at a particular parish for that purpose). His ambition was to make Don Bosco School No. 1 in entire Karnataka.
Budkulo: That means, he was totally committed/dedicated for the development of school?
Mrs Matilda: Yes, he was very dedicated to that cause. Within 2 years after finishing his teacher training he was awarded 'Best District Teacher' (See attached picture). On October 11th, first day of training for teachers took place (there was an argument that the chief guest didn't speak properly). We've heard that on that day Mahesh himself informed some people that he was due to be transferred (when it is to take place was not known but he was told that he would be transferred).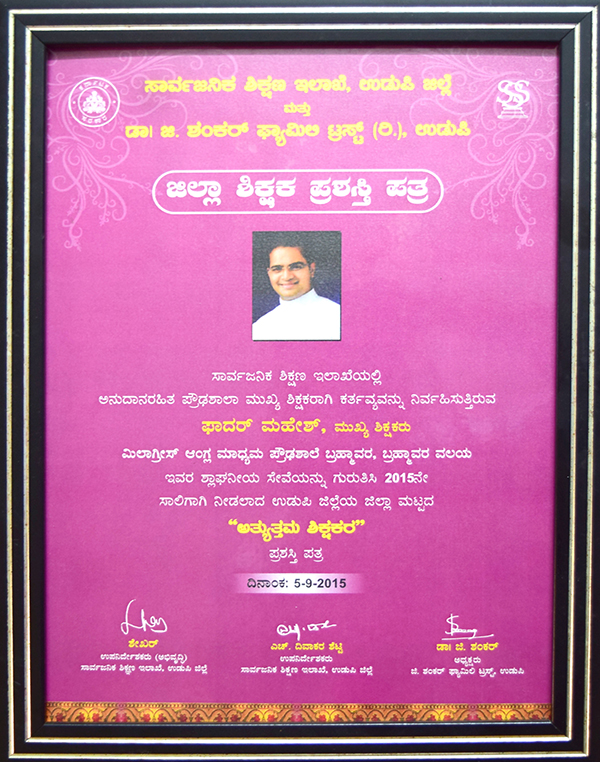 Budkulo: Was he not talking about these things with the family or any close friend?
Mrs Matilda: If there was anything major it was me who he used to tell. Because of his father's ill health, he used to not say much to him. If probed he would say; don't take my burden on yourself. Moreover, where did he have the time to sit and talk to us in detail? He may have said some things to his friends. He used to share anything out of the ordinary in the family WhatsApp group chat.
Budkulo: Did he say anything on the day of his death?
Mrs Matilda: He used to send a 'Good Morning message' every morning. On 4th October there was a message from him: – 'Behind every priest there is a demon fighting for his fall'. To that I had replied, "Don't get disappointed, you are in my every breath, son; I am praying for you. Be simple and dynamic, that is the beauty.'
Budkulo: He used to pray, didn't he? He had great belief in praying right?
Mrs Matilda: Fr Stany Tauro in his eulogy said: In our difficulties we used to say rosary to our Lady of Health.' Some parishioners told me that sometimes they used to see him praying alone with raised hands and tears rolling down his eyes. On 11th October, we know that he had been in the training camp during the day; later he had offered the holy mass and he had been in the Eucharistic veneration. We don't know what occurred afterwards that evening. Because he was very busy that week, he hadn't called us. However, if in need he used to call, he was not in the habit of lying down to rest on Sunday's. He used to call us while he was in his school office.
Budkulo: Was he usually working late in his school office?
Mrs Matilda: Yes, when required, he was in the habit of working late in office. He used to take 'Bisi Oota' (midday meals) in the school. We often used to tell him to have his meals on time.
Budkulo: When did you get the news of his death?
Mrs Matilda: They visited us to tell the news at 5 am. Our daughter-in-law's father had called us at 3 in the morning asking, 'How is Mahesh?' that's all. We had no other news. They had only informed my brother, Austin. We were informed when they came here to tell the news, after the body had been kept in the mortuary.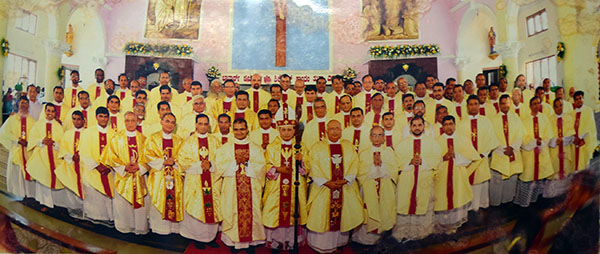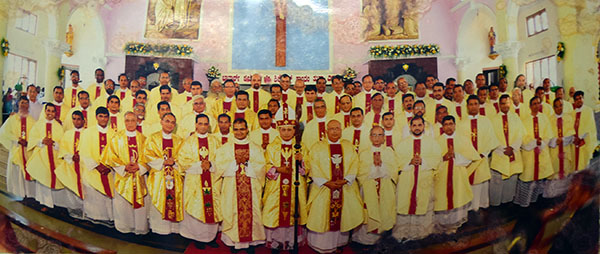 Budkulo: Do you know who had been informed initially of his death?
Mrs Matilda: The main Parish priest was away; only the the assistant priest was stationed. Assistant priest said that when he asked to come for meals saying, "Come for dinner, Father," Fr Mahesh had responded, "you go, I'll come bit later."
He said, later on when I was sitting in the office, a boy came in a car, he asked, 'where is Fr Mahesh?' I said, 'I don't know.' Soon afterwards, the boy's father came, he also asked the same (there was a bit of argument); then the Vice President was called, and they left'. Later, it seems they searched for Fr Mahesh, in the estate, in the church well…
Budkulo: Why there? Shouldn't they have looked in the office first?
Mrs Matilda: That's what I am saying too. If he wasn't in the house, he would be in office. If he had decided to end his life, wouldn't he have written any note to say as much? Because they saw light in the toilet near school office, they claim they went in that direction to look for him. It seems there was no light in Mahesh's office. As there was no response when called, they went closer. They say that they saw a reflection in the mirror as if someone was there standing. We don't know what actually occurred next. Later the Bishop and the Police arrived.
When we received a phone call at 3 am, we asked why we were called at this hour, there was no answer. When we called our daughter in law, she too didn't tell us anything except, 'let's talk in the morning, now go back to sleep'. As there was a daily mass at 6.30, we decided to call him before that. After that we could not go back to sleep. Around 5 am, my brother Austin, Vice President of Parish council, Fr Francis Lewis, and a doctor from Manipal came to tell us the news that Mahesh has died (committed suicide).
At the time of his brothers' departure to go abroad, when I had asked, 'Son, you will visit us regularly, wont you?' he had said, 'I would Mummy'. Why would he then do something like that? He knew our situation. His father is not well, his grandmother is bed ridden. Could it be that someone harassed him so much? How would a person feel if he was subjected to taunts at every word?
On his ordination day he had promised me. I had sacrificed a lot for him. I wanted him to be a good priest, so I used to fast every Friday for his vocation. On his ordination day, during his speech, he wept when he said, 'Mummy I remember all the sacrifices you have done for me. I will be a good priest.' See what happened today…
Budkulo: Is your family been told of all the sequence of events on learning the news of his death?
Mrs Matilda: On arrival when the police requested the presence of a family member, Dr Edward Nazareth was called (but he was far away in Mangalore). Fr Francis Lewis had come (He was very close to Fr Mahesh). My brother too was called. On seeing the pictures of the incident people had lot of doubts. Some said it is not suicide but murder. It is difficult to fathom who would have that sort of enmity with him to kill him.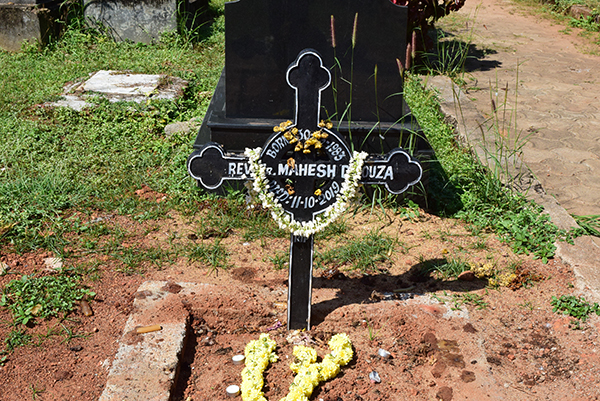 Budkulo: Later, until the 2nd of November, were people not aware of progress in the investigation?
Mrs Matilda: I do not know the technicalities of the matter. My brother was present. On knowing that no formal complaint has been filed from either his parish or the Bishop, people got agitated. Before the funeral, the Bishop had visited us and had prayed with us.
Budkulo: But, when the parish priest told, 'the family has requested not to proceed with investigation', the people got agitated… Next day the Bishop also said the same. Did you request them not to proceed with investigation?
Mrs Matilda: We had requested the Bishop, 'We ourselves will not pursue, we have given our son to the Church, we want you to make sure that justice is done.' Later we had issued a press statement saying the same. We also informed the Superintend of Police what we had requested the Bishop. 'Please make sure our son's name is not spoiled' is the only additional thing I had requested of her. We never asked not to investigate further. I said the same when parishioners had called me. Later, they carried out a silent protest before handing over their appeal to the police. Since then further investigation has been on. The Police Circle Inspector has inquired us and has taken our statement. We have informed him about the things we knew and what we have learnt from people. Police have interrogated many in this regard. Lot of new information has come out from the people.
The one thing which we have told the police on record is – ''Today our Son is not with us only because of the dirty politics of senior priests." We also have handed over the anonymous letter that was sent to us, which they have taken as evidence.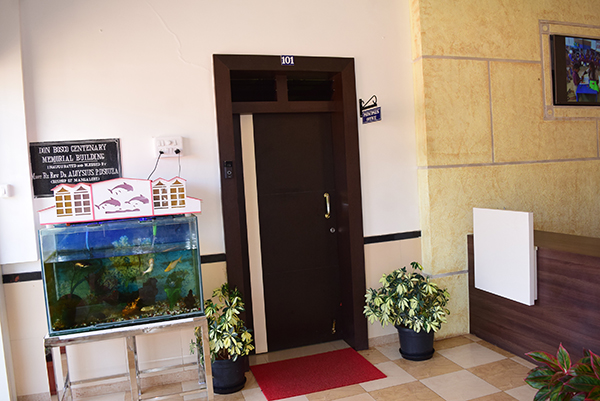 Budkulo: What do you feel about your son now?
Mrs Matilda: He had a dream to make Don Bosco school No. 1 in Karnataka. He dedicated his whole life to that cause. He received good cooperation from the people. He had a very infective personality. Whenever he would ask, people never refused him, they would give what they can. Based on that trust he had planned each one of his projections. He had a strong belief that he would be able to accomplish what he had planned. Because of the big donation from businessman, Michael D'Souza, his confidence was strong. Last year the student intake had gone up. He was very good in music and he had won people's admiration.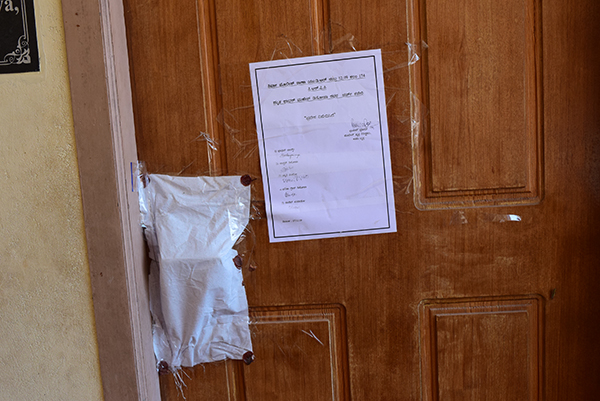 He had served in many parishes in various capacities; from the time when he was a student in the seminary to after his ordination. In between, on the direction of then Bishop of Mangalore, he had to study for 2 years for his B.Ed. There were of his admirers present at the funeral. At the funeral, it was as if the whole universe was provoked. On seeing the heavy thunder lightening, darkness caused by heavy rain, people told me, 'the same had happened when Jesus was crucified…'
On All Souls day among the people who had come to venerate the graves of their loved ones, were his loved ones. He was first to be ordained as the priest in the newly formed Udupi diocese.
Budkulo: Do you believe your son has committed suicide?
Mrs Matilda: If he was killed, I am struggling to understand who could have been his enemy. And when he had planned so much for the future why would he kill himself? He was very active. At his school, none of his colleagues know the reasons. They are also in shock. Some say he committed suicide because of personal reasons; but we don't know anything about that. We also don't know what they know on this regard. Because it was said in the media, that could give rise to negative connotation, this could damage to personality and good image of Fr Mahesh.
Send Feedback to: 

budkuloepaper@gmail.com