Indian nurses trapped in Libya return home
A group of more than 40 Indian nurses who were trapped in the fighting engulfing parts of Libya have returned home, officials say.
The nurses, who worked in various hospital in Libya, arrived in Tunisia two days ago and were flown to Kochi airport in Kerala on Tuesday morning.
Fighting between rival factions in the North African country has killed hundreds of people in recent weeks.
More than 1,000 Indians work in the Libyan capital, Tripoli, and Benghazi.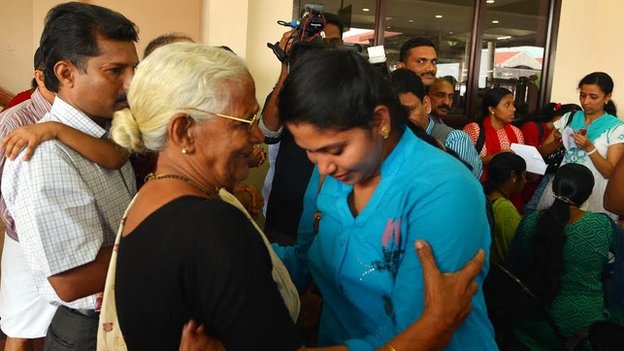 Officials say dozens of nurses are still stranded in the country and will be evacuated over the next few days.
Many of the nurses trapped in Libya are from the southern Indian state of Kerala.
Earlier this month, 46 Indian nurses trapped in fighting in parts of Iraq returned home after being freed.
P Sudeep, a senior official of Kerala's Non-Resident Keralites' Affairs department, told BBC Hindi's Imran Qureshi that 44 nurses had arrived on Tuesday morning.
They are part of a group of 120 nurses "and other [Indian] workers" from Libya who wanted to return home.
A few days ago, Kerala Chief Minister Oomen Chandy asked federal Foreign Minister Sushma Swaraj to arrange the evacuation of those who requested it.
Several countries have evacuated their citizens from Libya and others have advised against travelling there.
Britain has used a Royal Navy ship to evacuate its citizens from Libya to Malta.
Last week, the US evacuated its embassy in Tripoli, citing a "real risk" because of the fighting. The UN too has withdrawn all its staff from Libya.
The country has been gripped by instability and a power struggle among rival groups since the overthrow of former leader Colonel Muammar Gaddafi in 2011.
Fighting between rival militias – one established by the outgoing parliament and one controlled by the defence ministry – has spread northwards in the capital in recent days.
Courtesy: www.bbc.com