Pregnant Indian woman's daring swim to avoid home birth
An Indian woman in her ninth month of pregnancy has swum a river swollen by monsoon rain to give birth in hospital.
Yellavva used dried pumpkins and gourds as bouyancy aids to swim nearly a kilometre from her river island village to safety in southern Karnataka state.
She said she was "scared" but wanted her baby born safely – there is no medical centre in her village and she did not want to give birth at home.
Villagers and doctors have described her swim as an amazing achievement.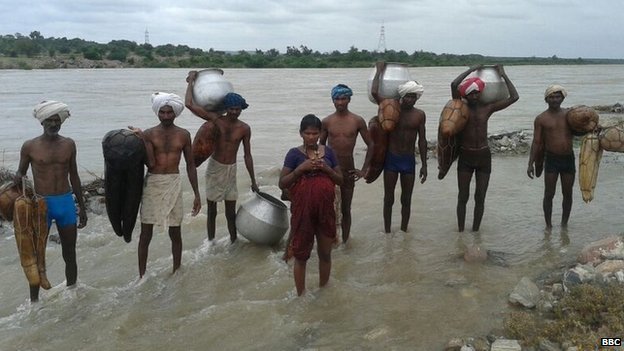 Yellavva, 22, is a resident of Neelakantarayanagadde, a small island-village on the Krishna river in Yadgir district, some 400km (250 miles) north of Bangalore.
The only way to travel from there to the mainland is by a raft – which doesn't operate when the river is too choppy.
When Yellavva crossed the river last Wednesday, she says its swirling waters were rising 12 to 14 feet and even experienced swimmers would have hesitated to get into the water at the time.
"I was scared. But it was for my child that I got the determination to get over all my fear and cross the rising river waters," she told BBC Hindi.
Yellavva was helped by her father, brother and cousins who swam with her.
"My brother went in front. I was next. My brother and cousins had tied dried hollowed pumpkin and bottle gourds around me so I was afloat," she said.
Her brother Lakshman, who held on to the rope tied to the gourds and pumpkins, said: "My father was right behind her. Normally, the distance is a little more than half a kilometre. But, it took us about an hour to get her across. As we reached mid-point, the current was very very strong."
The heavy current pushed them far downstream, making the distance they swam nearly one kilometre.
Yellavva said the swim made her tired, but a doctor who examined her on arrival at the government medical centre in the nearby village of Kekkera said "she is fine and resting at a relative's home".
"Her baby, due in 20 to 25 days, is fine too," Dr Veena said.
Yellavva's daring swim has won her much praise.
"I have been here for seven years. A handful of people have crossed the river with some help. However, I have not seen any pregnant woman crossing the river when it is in this state and that too in the ninth month of pregnancy," Dr Veena said.
"She is an example of courage and determination. The first thing that struck me when I took her photograph was that she was so determined to cross the river in spate," said Venkatesh Dore, a reporter for a local newspaper who took Yellavva's photo.
Courtesy: www.bbc.com