Richard Attenborough Dies at 90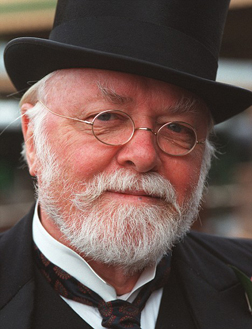 Richard Attenborough, who after a distinguished stage and film acting career in Britain reinvented himself to become the internationally admired director of the monumental "Gandhi" and other films, died on Sunday. He was 90.
His death was confirmed by his son, Michael, according to the BBC.
Until the early 1960s, Mr. Attenborough was a familiar actor in Britain but little known in the United States. In London he was the original detective in Agatha Christie's play "The Mousetrap." On the British screen, he made an early mark as the sociopath Pinkie Brown in an adaptation of Graham Greene's "Brighton Rock" (1947).
Hollywood Breakthrough
But it was not until he appeared with his friend Steve McQueen and a sterling ensemble cast in the 1963 war film "The Great Escape," his first Hollywood feature, that he found a trans-Atlantic audience. His role, as a British officer masterminding an escape plan from a German prisoner-of-war camp, was integral to one of the most revered and enjoyable of all World War II films.
That performance established him in Hollywood and paved the way for a series of highly visible roles. He was the alcoholic navigator alongside James Stewart's pilot in "The Flight of the Phoenix" (1965), a survival story about a plane crash in the desert. He won back-to-back Golden Globe Awards for best supporting actor: first in "The Sand Pebbles" (1966), also starring McQueen, set during China's civil war in the 1920s, and then in the whimsical "Doctor Dolittle" (1967), playing Albert Blossom, a circus owner, alongside Rex Harrison as the veterinarian who talks to animals. In "The Chess Players" (1977), by the renowned Indian director Satyajit Ray, he was a British general in 19th-century India.
Years later Mr. Attenborough became known to a new generation of filmgoers as the wealthy head of a genetic engineering company whose cloned dinosaurs run amok in Steven Spielberg's box office hit "Jurassic Park."
But for most of Mr. Attenborough's later career, his acting was sporadic while he devoted much of his time to directing.
Directing a Classic
"Gandhi" (1982), an epic but intimate biographical film, was his greatest triumph.
With the little-known Ben Kingsley in the title role, the film traces Mohandas K. Gandhi's life as an Indian lawyer who forsakes his job and possessions and takes up a walking staff to lead his oppressed country's fight for independence from Britain through a campaign of passive resistance, ending in his assassination.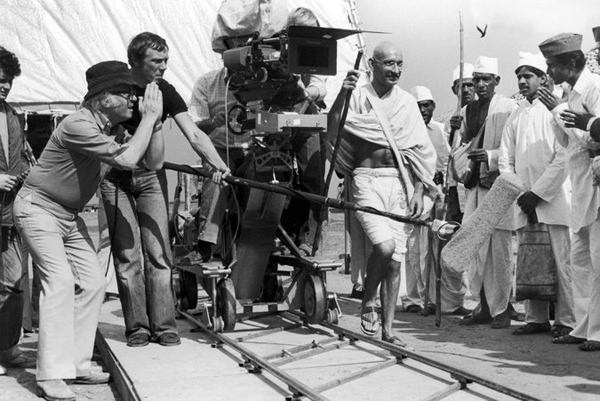 Among the film's critics were historians, who said it contributed to mythmaking, portraying Gandhi as a humble man who brought down an empire without acknowledging that the British, exhausted by World War II, were eager to unload their Indian possessions. Nevertheless, "Gandhi" was nominated for 11 Academy Awards and won eight, including best picture, best director, best cinematography, best original screenplay and best actor (Mr. Kingsley).
Mr. Attenborough brought the film to fruition after a 20-year battle to raise money and interest often reluctant Hollywood producers, one of whom famously predicted that there would be no audience for "a little brown man in a sheet carrying a beanstalk." (Mr. Attenborough ended up producing it himself.)
Mr. Attenborough mortgaged his house in a London suburb, sold works of art and, as he put it, spent "so much money I couldn't pay the gas bill."
The film had 430 speaking parts and used over 300,000 extras for Gandhi's funeral. No one expected it to recoup its $22 million cost, but it wound up earning 20 times that amount.
By then Mr. Attenborough had embraced the role of director, or "actor-manager," as he called himself. (He said he understood actors and could help them give confident, truthful performances.) His first foray into directing was "Oh! What a Lovely War" (1969), an offbeat satirical musical about World War I with an all-star cast including Laurence Olivier, Maggie Smith, John Gielgud and Vanessa Redgrave.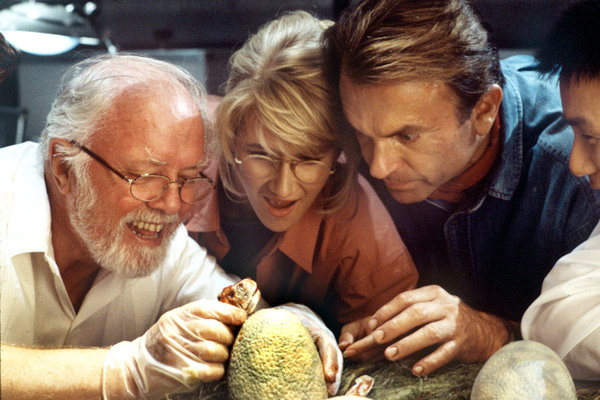 In 1972 there was "Young Winston," starring Simon Ward, about Churchill's early years. In 1977 there was "A Bridge Too Far," a cautionary World War II epic about a disastrous Allied defeat, which also fielded a starry cast: Olivier, Robert Redford, Sean Connery, Gene Hackman, Michael Caine and others.
After "Gandhi" came a 1985 adaptation of "A Chorus Line," Michael Bennett's musical about Broadway hoofers. It was a misfire — a faithful but uneasy translation to film. Mr. Attenborough had more success with "Cry Freedom!" (1987), a stirring look at the friendship between the antiapartheid fighter Steve Biko (Denzel Washington) and a journalist (Kevin Kline) in South Africa in the 1970s.
Five years later, after a hiatus from directing, Mr. Attenborough returned with what was largely considered to be his biggest flop: "Chaplin," a long, sprawling biography of the silent film star Charlie Chaplin. Despite an admired and Oscar-nominated performance by Robert Downey Jr. in the title role and a potent mix of drama and slapstick humor, "Chaplin" did poorly at the box office. Like many of Mr. Attenborough's movies, the story of Chaplin, the lowly born clown who defied the odds by achieving world renown, celebrated courage and endeavor. It was also an article of faith for him that his films told clear stories and said something significant to wide audiences. "All my work questions the establishment, authority, intolerance and prejudice," he said.
'Champagne Socialist'
Yet his life was entwined with the establishment. He was made a Commander of the British Empire in 1967. He was knighted in 1976, made a baron in 1993 and given a seat in the House of Lords. He was variously chairman of the British Film Institute, Channel Four Television, Capital Radio and the British Academy of Film and Television Arts and president of the Royal Academy of Dramatic Arts.
If his heroes were those who challenged institutions from without, he sought to effect change from within. He also led the Actors' Charitable Trust (now the Actors' Children's Trust), which helps actors' children and actors in old age. He was the moving spirit behind a center offering arts to the disabled in his native Leicester.
Continue reading the main story
He was credited with inspiring Diana, Princess of Wales, whom he coached in public speaking at Prince Charles's urging, to start her campaign against land mines. In his maiden speech in the House of Lords, he criticized the government for neglecting the arts.
Christopher Hart, writing in The Sunday Times in London, called him "an ennobled Champagne socialist of the old school, a mass of good causes and inconsistencies." On the set he was known for his genial charm, calling everyone "darling," however mighty or marginal they were. William Goldman, the screenwriter of "A Bridge Too Far," called Mr. Attenborough "by far the finest, most decent human being" he had ever met in the movie business.
Richard Samuel Attenborough was born in Cambridge on Aug. 29, 1923, the eldest son of Frederick Attenborough, an Anglo-Saxon scholar who became the principal of University College, Leicester, and his wife, Mary, a writer who crusaded for women's rights and took in Basque and German refugees. The Attenboroughs adopted two Jewish sisters who had arrived in Britain from Berlin in September 1939, too late for them to be sent safely to relatives in New York.
A Calling to Performance
Unlike his brothers — David, who became a noted biologist and television broadcaster, and John, who went into the auto business — Richard was an academic failure who was happiest when performing in plays. He determined on an acting career, he said, after seeing Chaplin in "The Gold Rush" in 1935 on a trip to London with his father.
"I saw people laughing and crying into their handkerchiefs," he once said, "and on the train back to Leicester, I said to myself, 'I want to do that, too.' "
Leaving school at 16, he won a scholarship to the Royal Academy of Dramatic Arts and eventually married a fellow student, Sheila Sim, who became a well-known actress herself before abandoning the theater to look after their three children and become a magistrate.
Besides his wife and son, Michael, survivors include a daughter, Charlotte Attenborough. Another daughter, Jane Holland, died in the Indian Ocean tsunami of 2004 along with her daughter, Lucy.
Even before he joined the Royal Air Force as a military cameraman in 1943, photographing German-held sites before and after bombing, Mr. Attenborough was performing. He made his professional stage debut while still in school, in 1941, in "Ah, Wilderness!" Noël Coward cast him as a terrified boy sailor in the 1942 film "In Which We Serve," and he made his West End debut as the bitter young hero in a revival of Clifford Odets's "Awake and Sing!"
More substantial success came with his role as the teenage Pinkie in "Brighton Rock," in 1947, followed a year later by a much-praised performance as a working-class adolescent in an elite school in "The Guinea Pig," renamed "The Outsider" in the United States. By the end of the 1940s he had a fan club of 15,000.
For the next decade and a half, Mr. Attenborough acted primarily in British-made films. Then came "The Great Escape." Though McQueen was the film's undeniable star, as a jaunty, rebellious American, Mr. Attenborough turned in a calm but commanding performance as a squadron leader.
Continue reading the main story Continue reading the main story
Two years later he won a British Academy of Film and Television Arts award for his performance in "Séance on a Wet Afternoon" (1964) as the seedy husband of a neurotic psychic (Kim Stanley) with whom he schemes to kidnap a wealthy girl. The film was one of many he made with his own production company, Beaver Films, formed with the director Bryan Forbes.
Later Roles
He continued to act sporadically in the 1970s — notably as the British serial killer John Christie in "10 Rillington Place" (1971) — and then largely disappeared from the screen until he ended a long hiatus in 1993 with his supporting role in "Jurassic Park." There were subsequent film roles — among them Kris Kringle in a 1994 remake of "Miracle on 34th Street," the English ambassador in Kenneth Branagh's four-hour version of "Hamlet" (1996) and the chief adviser of Elizabeth I (Cate Blanchett) in "Elizabeth" (1998) — but by then Mr. Attenborough was devoting most of his time to directing.
One film he took particular pride in was "Shadowlands" (1993), an elaborate adaptation of William Nicholson's play about the love affair between C. S. Lewis (Anthony Hopkins) and a divorced American woman (Debra Winger). But he also knew failures, like "In Love and War" (1996), a Hemingway biopic with Chris O'Donnell and Sandra Bullock, and "Grey Owl" (1999), starring Pierce Brosnan as a Canadian trapper.
In his later years Mr. Attenborough was chancellor of the University of Sussex, stepping down in 2008. He returned to directing in 2007 with "Closing the Ring," a romantic drama starring Shirley MacLaine. But the prospective film that had come to preoccupy him almost as much as "Gandhi," a biography of Tom Paine, remained unmade at his death.
In 2008, in collaboration with his longstanding associate Diana Hawkins, he published an autobiography, "Entirely Up to You, Darling." The book chronicles a full and eventful life. But it ends with the death of his daughter and granddaughter in the 2004 tsunami, and his regretting the time he never spent with them.
"Work," he wrote, "always took precedence."
News & Photos Courtesy: New York Times