Foreign Tourists like Mangalorean Food: William DSouza of Globe Travels
Interview by Donald Pereira, Editor – www.Budkulo.com
William DSouza of Globe Travels is a pioneer in making Mangaluru a prominent tourist destination. If Mangalore attracts thousands of western tourists today, most of whom enter Mangaluru by cruise ships, Globe Travels has played a major role behind it. William DSouza has not just developed his business enterprise, but he has worked for the progress of Mangalore and Dakshina Kannada district in many ways. His Globe Travels has become popular not only in India, but also abroad, particularly in Europe and American Continents.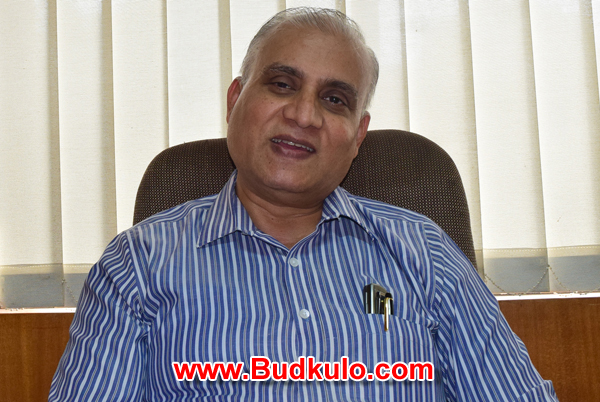 William is one among the famous Souza Brothers of Puttur. His family is full of entreprenuers. They are not only known for adventures in the business field, but they are equally commited for the upliftment of society. They have constituted an Educational Fund for students which has helped thousands of students so far. Recently they have joined hands with St Aloysius College of Mangaluru to establish a Civil Service Institute. These brothers are actively taking part in social development programmes. Their love and support to Konkani language is praise worthy.
William has played major role in starting the golf course in Mangaluru. Pilikula Golf Course was his dream. William is also responsible in many ways in converting Mangaluru airport as an international airport. It was he who started Red Cross Society and Blood Bank in Mangaluru. Mr Oscar Fernandes, Member of Parliament, had then supported for this Blood Bank through his M.P. Fund.
Here is the excerpt of William's Konkani interview given to Budkulo E-Magazine. He has narrated his journey of business, explained about his industry and many aspects of his profession. We are sure you will like this interview and enjoy it. Wish you good reading.
-Editor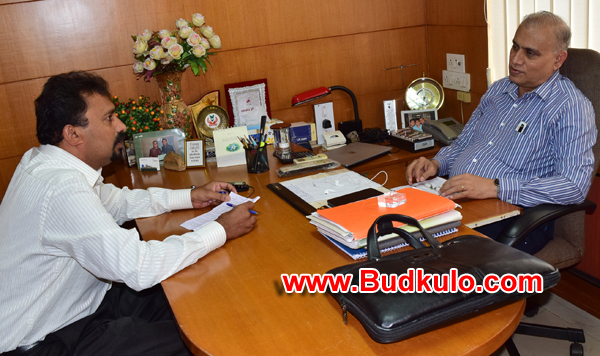 Donald Pereira: Mr William sir, how did you enter into traveling business?
William DSouza: We had a furniture & aluminium factory at Puttur, our hometown. My brother-in-law was running traveling business. Since he left for United States, I had to look after that business.
We started Globe Travels in 1978. In 1982 I took over it. I was enthusiastic in traveling business. It helps you to meet various people across the world and witness different cultures, life style wherever you go.
Donald: What difficulties and challenges you have faced in your business?
William: We have faced many difficulties. Here we don't get any support from government. They talk a lot on improving tourism industry, but actually don't help. Whatever it may be, we ourselves have to face, struggle and spend. During those years, we did not have lot of money. But we managed. Through great efforts we could bring foreign tourists to Mangaluru.
Donald: What was your area of work during initial stages?
William: We were issuing flight tickets in the beginning. Then we offered Passport service & arranged domestic tours in India. In those years, we went to US and introduced Mangaluru Port to them. It resulted in the arrival of cruise ships to Mangaluru. Now we have regular cruises visiting Mangaluru.
We were the first travel agency in India who introduced holy land tour to Israel. We took our first group of 16 persons. We organised tours to Singapore, Bangkok, Gulf and other countries. We have arranged tours to many places across India.
Donald: There are many types of tours, like visiting historical places, family tours, honeymoon tours, pilgrimage trips etc. How they are different from each other?
William: If it is family trip we can arrange with a single vehicle. When it is a big group, there will be many families along with children. We send our guides with groups. Single families choose to travel themselves.
Donald: What precautions are required while taking groups to foreign countries?
William: We gather information about them. Need to scrutinise if there are any criminal records. We have our agencies in foreign countries. We arrange hotel and other facilities through them. Our staff takes care of touring team in their entire trip. We offer complete facilites including food, stay and roaming. Visitors have to get medical insurance for the trip. We suggest our customers to take necessary health check up and get consulted with their physicians.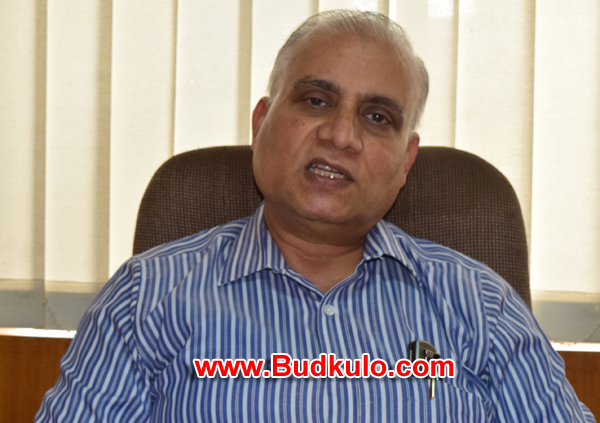 Donald: Most of your family business firms are named after 'Souza'. How yours became different?
William: Good point. We deal with foreign tourists; ours is international business. Hence we named our firm as 'Globe Travels'. Our other firms mostly deal within Dakshina Kannada district and Mangaluru city. Our name is apt with reference to our business. Globe Travels has earned good reputation in India and across globe. We have received a lot of recognition too.
Donald: Tell me, how important traveling is?
William: It's very important. If we stay at our own place we remain like frogs in the well! When we travel to other places we realise the difference in many things. We can see whether we have progressed or not. We can compare ourselves and our places to others. We get many contacts when we go out. We get many ideas, knowledge by which we can achieve progress in our respected profession, fields. You can learn new things. For example, if you go to Israel, you can learn modern techniques and various ideas of progressive farming and effective agriculture. You can adopt them. Whether it's business, industry, job or agriculture, your knowledge and experience increases. It is beneficial to you.
Donald: How tourism helps in the developoment of a place and country?
William: A tourist spends a lot. He gives you business. When tourists do shopping, buy things business flourishes. Traveling, consuming food, paying entrance fees yield revenue. Many get employment when tourim progresses. Being a guide one can earn sound income. Two places, countries exchange a lot of things. Hospitality industry is directly connected to tourism. Tourism directly helps increase of business, trade and also job market.
Donald: Can you give information on job opportunities in your industry?
William: There are lot of job opportunities. Tourism is a huge industry. There are plenty of jobs from offices to airports, driving to becoming a pilot, ticketing officers to air hostesses, becoming staff at terminals, cruise ships etc. Our industry offers direct as well as indirect jobs. Being a driver of tourist vehicle is also one among them. Artists and cultural field also benefits from tourism. We have given jobs to over 400 college students who have earned handsome amount while they were studying.
Donald: What courses you offer in your Globe College?
William: We have our own college of tourism – Globe College of Travel and Tourism. We train our students through our own syllabus. We have international ticketing course. We offer basic and senior/management courses. Students can learn from issuing tickets to managing airlines, airports and lot more. We offer programes from IOTA, which is the only international association.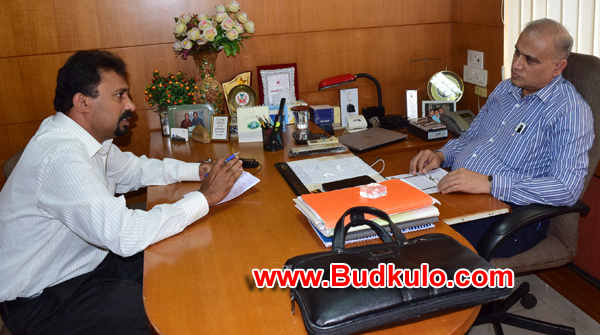 Donald: Revolution of technology has changed everything. How it has affected your business?
William: Yes. There is a huge difference in our functioning due to technology. We used to prepare tickets by hand writing. Had to call Airline offices to confirm seats before booking. Now we can see availability of seats on our own. Everything is online now. In earlier days payment was done either by cash or cheque. Now it is done by cards. Today payment is done instantly by online or through mobile phones. Technology has changed everything, and, it has helped our work to become faster and accurate. We book bus tickets of foreign cities from here itself. Communication has become very efficient.
Donald: Please share some of your special, memorable moments from your 40 years of experience…
William: I have lot of such memories. Pope John Paul II had personally invited one of our team, who had visited Vatican. He wanted us to meet him and allowed to take group photo. He had visited Mangaluru (in 1986) in his tour to India. When he came to know a team from Mangaluru is arrived, he surprised us by his humble gesture. It was unexpected. We were very fortunate to have such privilege. That moment is unforgettable.
During one of our trip to Colombo, the then Prime Minister of Sri Lanka Mrs. Sirimavo Bandararaike had met us. She had desire to visit Mangaluru. She asked me to start cashew factory in Colombo. I assisted them to start a cashew nut processing unit there. That was a great opportunity for us to start joint venture. Many of our tourists have got such business opportunities like exporting their products, starting joint venture etc.
Donald: Many cruise ships arrive at Mangaluru (Panambur) Port, which bring lot of foreign tourists. How do they feel about Mangaluru?
William: They have good feeling about Mangaluru. They study about Mangaluru (and any other place they visit) before planning their trip. They know that Mangalorean people are very educated. We need to keep our city clean and tidy. They don't like destroying old homes. They suggest us to maintain old constructions as heritage sites. In western countries, they retain every heritage buildings. They feel bad to see many good traditional houses getting demolished in and around Mangaluru.
Foreign visitors do like Mangalorean food, cuisines. We take them to various historical and religious sites including Thousand Pillar Basadi at Moodbidri, Gomateshwara statue at Karkala and many temples. They appreciate paintings at St Aloysius College Chapel and wonder how such precious paintings have been maintained in this weather condition.
Donald: How Mangaluru can become a prominent tourism hub in the world?
William: Definitely there are lot of opportunities. There was no golf course in Mangaluru. When I was president of Rotarian Club, I insisted then D.C. and others by which we could start Pilikula Golf Course. Mr J.R. Lobo, who was a government officer at that time, has helped me a lot to start this golf course. This golf course need to be upgraded from 9 holes to 18 holes. We can develop our beaches with good standards, which is very essential to attract more foreign tourists. At the same time we need to give priority to cleanliness. Basic infrastructures have to be provided. Hygienic toilets, rest rooms are required.
Mangaluru is located between Goa and Kerala. Many tourists prefer Mangaluru than Mumbai and other cities. We have the potential to become a prominent tourist destination.
We need to have more good hotels. Having good Home Stays will attract more foreign tourists. They prefer to stay for long time. Good amenities and quality service makes them happy.
Donald: Since Mangaluru Airport became international, we have direct connection to gulf countries. Fresh vegetables and other consumables can be transported quickly. It will benefit our farmers & growers. What is the current status in this regard?
William: When I was Rotary President, idea of Mangaluru Airport becoming International got floated. Kanara Chamber of Commerce & Industry had constituted Mangaluru International Airport Committee when Mr Subbaiah Shetty was president of KCCI. He was the president of that Committee and I was the director. We discussed and went to New Delhi and succeeded to make Mangaluru as International airport. We both personally contributed and collected amount to build terminal, since no funding from government. Mr Subbaiah Shetty has worked day and night and supervised terminal being constructed. Many people may not be knowing it. The then Civil Aviation Minister Mr Anant Kumar, who had come for inauguration, praised us. Later, because of him, we got govt. fund for building new terminal and run way. People are getting benefit after the dream of getting International airport is realised.
There is plenty of opportunity for exporting. Currently it is done through passenger flights. No cargo flights right now. We need to have 40-100 tons of goods to get cargo flights. Hopeful of getting cargo flight in next year. Currently lot of goods, mainly sweets, vegetables, cashew nuts are being exported.
Fish, vegetables, sweets, flowers, daily newspapers, pickle etc is being exported currently in passenger planes. Food items are being exported to US, Canada and Australia via ship containers. A food processing company from Yeyyadi is exporting around 100 containers. Another person who is residing in US, importing hundreds of containers of local food items. Many are doing such business.
Donald: Many Mangaloreans prefer to settle in foreign countries. They don't want to return. People are opting to stay in Gulf, Europe, Australia, US and Canada. Is there no alternative for them here?
William: There are alternatives. Few people feel inferior to work here. Till 1996, I used to get 250 to 300 job applications from youngsters who just finished college education. Among them 25 to 30 were recommended by priests. Later that number reduced drastically and now I don't get any application. So I wanted to study the reason behind it. Youngsters do not want to work at their hometown! Many want to have freedom. Hence they prefer to go to other cities or abroad. Higher salary abroad attracts them. Money has become most important priority to them.
Donald: Mangalorean Catholics are not much involved in self employment, business etc…
William: You need to do homework before starting anything. Few start business without proper preparation, hence they fail. Failure disappoints them. Catholic Chamber of Commerce & Industry 'RACHANA' is doing some work in this regard. I feel that is not sufficient, because one has to get proper training and guidance before starting self employment. Even agriculture field also facing challenges. There is huge shortage in manpower. Utilising machines in farming is the solution. Other than catering business no other industry has become much successful. Our youngsters have no interest and courage to enter into business field.
Recently I came across one young person who is running a laundry business. He is a B.Com. graduate. He collects clothes from houses for ironing and delivers them back. He has appointed few assistants to run the business. He told me he is getting Rs. 40 to 50 thousands worth business monthly. He has plans to expand his business. One need to have courage and enthusiasm to run a business firm.
Donald: What can be done to attract our youth to self employment and civil service sector? Something can be done through Church network right?
William: Yes. It can be done. Problem is, most of our families are having one or two children. Earlier there were 10 to 12 children in most families. Most children prefer going abroad. There is lack of contenders to these fields. Secondly, children now a days have no patience to put efforts. They want everything easily. For achieving all this, you need to struggle, work hard continuously. There are no short cuts to success. They get disappointed within one attempt. There is a saying 'Slow and steady wins the race', accordingly you need to work consistently to achieve.
St Aloysius College of Mangaluru, now, has started Civil Service Training Institute. Our family has contributed for this & joined hands with the College. This institute will help our budding talents to come forward and achieve success.
We have good network in our Catholic community. One committee need to be formed in the Diocese level. There should be committees in every parishes too. They need to coordinate. Every parish should have a goal of minimum 3-5 persons to get into business, civil services or becoming professionals. Proper training and motivation should be given to students and youngsters, also to their parents. Such work is not done so far. Only RACHANA is doing some work. Professional training is essential. Just talks are not sufficient.
I am hopeful that new Bishop of Mangaluru will take necessary steps in this regard. He has really taken few good steps. Economical-Social Survey is a good initiative. It will help in taking necessary measures.
Donald: Your family has also established a fund for higher education in association with C.O.D.P. How is the response to it?
William: Yes. My brother Michael has started that fund for students. Aspirants can avail loan from this fund, which they can repay in installments after they start earning. So far 2000 students have benefited from this. World Konkani Centre, where I am a member of Managing Committee, is giving scholarship to Konkani students.
We have many organisations in Churches. When I was in Sodality, we had started one fund. For youth there are few organisations, like I.C.Y.M. Such platforms can be utilised for empowering youth.
Send Feedback to: budkuloepaper@gmail.com