World Cup: Ruthless Germany destroys Brazil dreams
First there was disbelief. Then there were tears.
Beaten, battered and bruised — Brazil's World Cup dream is over.
It's a result that is likely to take some time to comprehend for a nation that many view as guardians of football's soul.
Brazil, unbeaten in a competitive fixture at home since 1975, had been on their way to heaven, according to their manager Luis Felipe Scolari, as they sought a sixth world crown.
Ninety minutes later Scolari, his players, and their millions of fans must have thought they had tumbled into Dante's Inferno.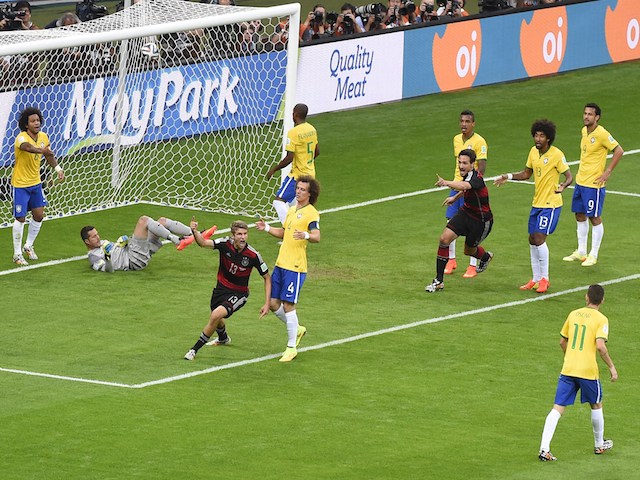 They had congregated in Belo Horizonte — the scene of Brazil's last competitive defeat on home soil — to roar their team into Sunday's final in Rio de Janeiro.
But nobody had told Germany as the European side produced a performance which was as staggering as the result.
A 7-1 defeat almost flattered Brazil given its dire showing.
Outplayed, outfought, outthought — if this was a boxing match it would have been stopped long before the halftime whistle.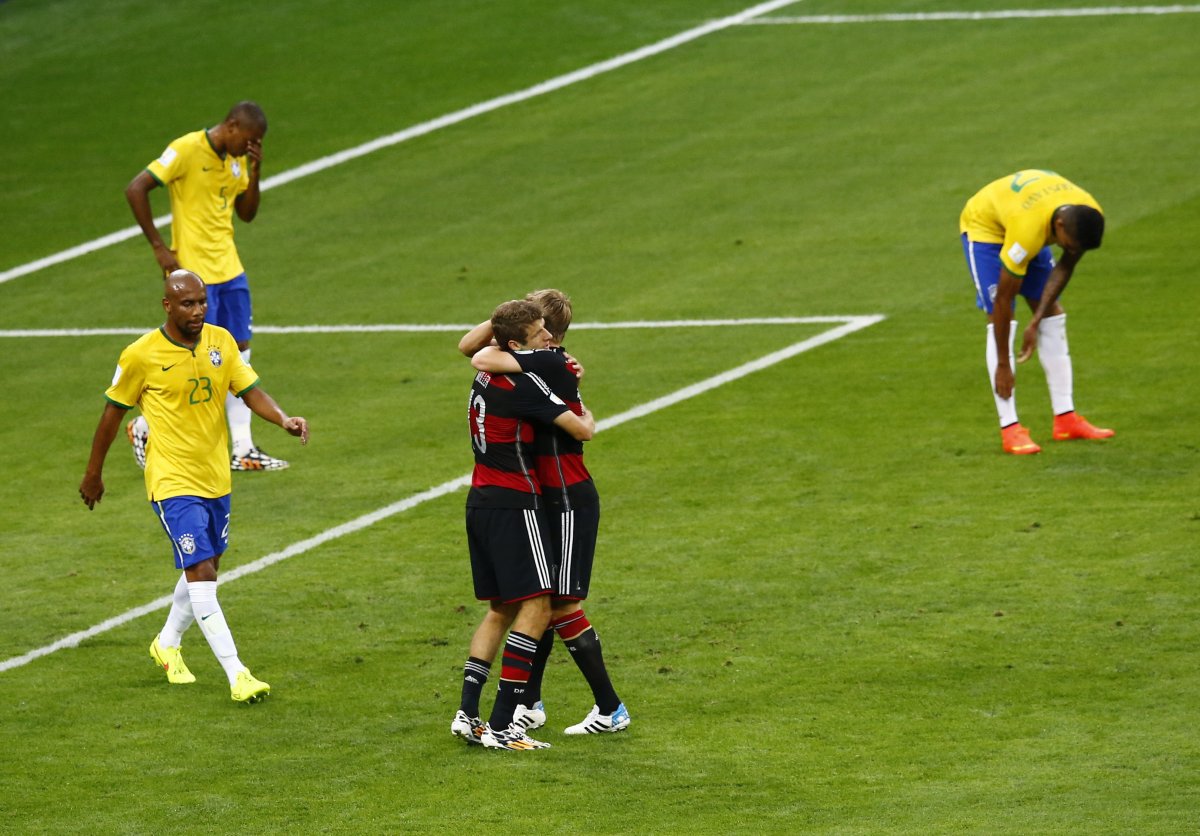 And yet, this had been coming.
There are few who would have expected the punishment to be so severe, but those in yellow who had kicked and dived their way around the field over the past few weeks were never likely to succeed in the long term.
Let there be no doubt — there is and was nothing beautiful about this Brazilian side.
Jogo Bonito is just a sepia toned memory — like a teenage fling or a summer romance.
This Brazil side is like an errant school child who plays up as often as possible until somebody steps forward to put it back in its place.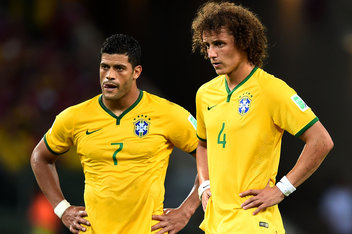 That petulance was quickly displayed as Marcelo claimed an early penalty after an impeccably timed Philipp Lahm tackle.
Occasionally the errant child gets a helping hand, as it did in its opening game against Croatia or during its quarterfinal victory over Colombia.
But what Brazil and its carefree kids had not bargained for was that one teacher who petrifies everybody and chills students to the bone.
You know the teacher — the one that doesn't even need to speak to get his or her message across when just an ice cold stare will suffice.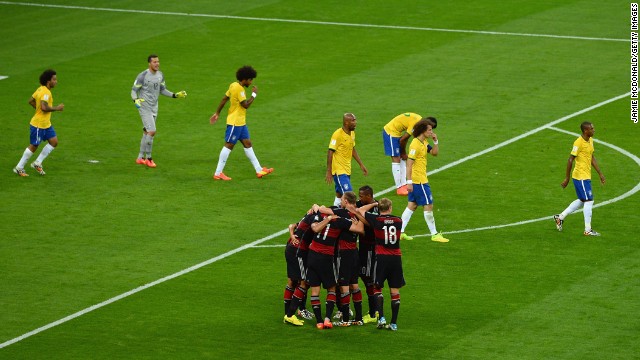 The teacher who can cause nightmares and bring out cold sweats with just a glance is the one which turned up in Belo Horizonte with the name of Germany displayed proudly upon its shirt.
This was the day Brazil was taught a lesson — and what a painful lesson it was as Germany provided a stark reminder of just how far those in yellow have fallen.
There isn't a detention long enough for those who produced Brazil's most insipid performances in World Cup history and the heaviest defeat in the country's history.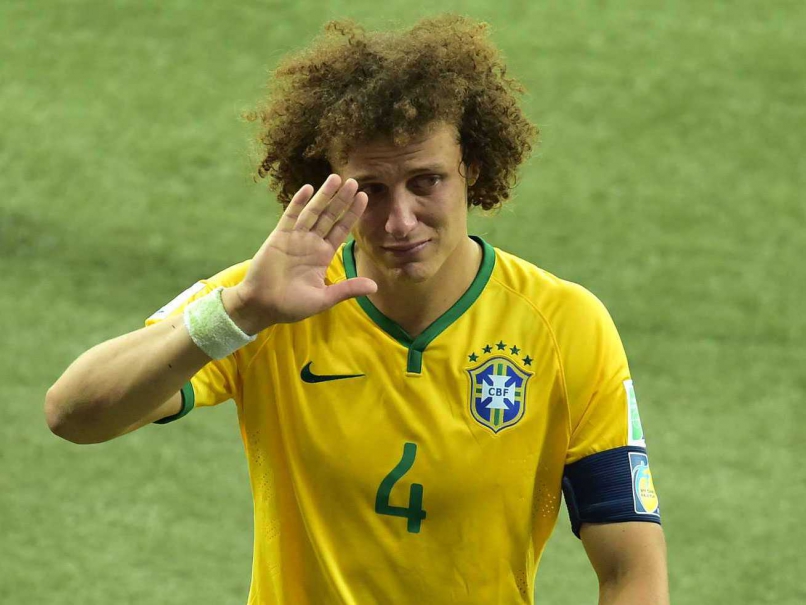 Five times has Brazil held the World Cup trophy aloft — but this current generation does not come close in comparison to any of those which have been successful in years past.
Would it have been different had Brazil's star player Neymar been there?
Since the golden boy of Brazilian football was taken off on a stretcher during the quarterfinal win over Colombia, the country has been plunged into misery.
His back injury, sustained following a poor challenge by Colombia's Carlos Zuniga, didn't just damage his vertebrae — it shattered the hopes and dreams of a nation consumed by the ideal of winning.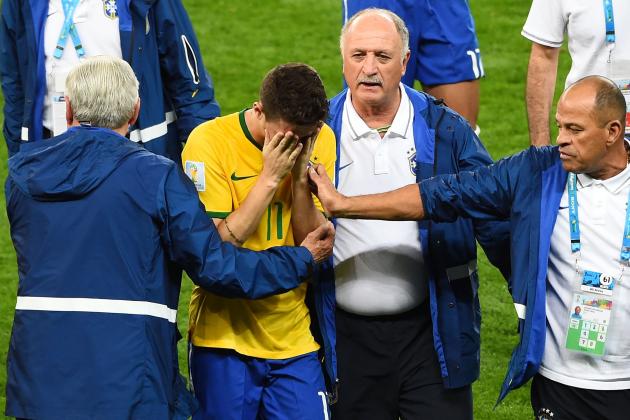 Every single waking moment has been spent discussing the absence of Neymar, the man who has scored 35 goals in 54 appearances.
His goals have propelled an average side to heights that it surely never would have reached without him.
But even his presence would only have delayed the inevitable, insisted Brazil's coach.
"This would have happened even with Neymar," said Scolari.
"If Neymar were in there things would not have been much different. He is a striker, don't forget that.
"Germany was able to take control of the game early on. The result has nothing to do with the anthem, the emotions, or Neymar.
"It wouldn't have mattered if Neymar was in the pitch. We're not going to make excuses for what happened."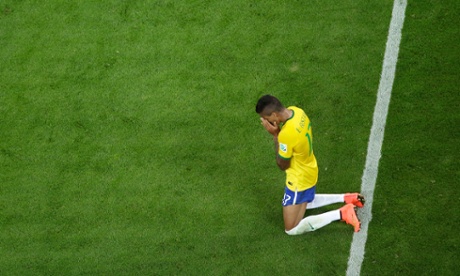 Arguably it was the suspension of captain Thiago Silva which really sealed the host nation's fate.
One of the finest central defenders in the game, Silva has not only shielded his side's goal, he has provided the leadership that this team relies on.
For many of the players, the emotion of the occasion and the pressure that has gone with it has often appeared to leave them overwhelmed.
"The blame for this catastrophic result can be shared between us all, but the person who decided the line-up, the tactics was me. It was my choice," Scolari, who led Brazil to glory in 2002, told reporters.
"We tried to do what we could, we did our best – but we came up against a great German team. We couldn't react to going behind.
"Not even the Germans can tell you how this happened — but it's because of their skills and you have to respect that.
"My message for the Brazilian people is this: Please excuse us for this performance. I'm sorry that we weren't able to get to the final — and we're going to try to win the third place match. We still have something to play for."
For Brazil this World Cup was not just about victory — it was about exorcizing the demons of 64 years ago, demons which have haunted a nation in a merciless fashion.
In 1950 it was Uruguay that ransacked the Maracana stadium in Rio and brought Brazil to its knees.
Those players were never allowed to forget what had come to pass, but at least now, their transgressions may be temporarily forgotten.
This current generation has grown up with the knowledge it would have the opportunity to avenge that day — instead it wrote a new chapter of humiliation into the history of Brazilian football.
From the very moment Germany opened the scoring through Thomas Muller in the 11th minute, Brazil's world began to unravel.
This was not just a beating. This was a merciless destruction, not just of a football team but of a nation's football heritage.
Within 18 first half minutes, Germany had delivered a barrage so deadly that Brazil never stood a chance of recovering.
Miroslav Klose became the World Cup's all-time leading scorer with 16 when he netted his side's second goal, firing home the rebound after Julio Cesar had saved his initial effort.
A minute later it was 3-0 — Toni Kroos thumping home from the edge of the penalty area as Brazil imploded.
With Brazil floored, Germany's ruthless streak came to the fore with Kroos adding his second after a one-two with Sami Khedira.
Germany's players didn't know whether to celebrate or laugh — in the end, they didn't even celebrate given the embarrassing ease with which they scored.
It was Khedira who made it five, finishing coolly after a neat interplay with Mesut Ozil to leave Scolari's men decimated.
Booed off at the interval, there was little to cheer about in the second half with substitute Andre Schurrle's 69th minute strike rubbing salt in Brazilian wounds.
As Brazilian fans began to leave Estádio Mineirão in Belo Horizonte, Schurrle netted a spectacular seventh to inflict the nation's heaviest ever defeat.
Oscar's late effort reduced the deficit to a mere six, but not even he could bring himself to celebrate such was the embarrassment.
The final whistle brought relief — not just for those in yellow on the pitch but for those who had suffered with them on the field.
While Germany celebrated reaching the final for the first time since 2002, Brazil's player were left inconsolable with grief.
Tears flowed, heads were bowed but perhaps in time those players will come to realize that they were simply not good enough.
For Brazil, it is a lesson learned. For Germany, it is the latest chapter in what could be a glorious story.
"We need to stay humble," said Germany coach Joachim Low. "We have to stay concentrated until Sunday.
"We're obviously going to celebrate a bit but we have to start focusing right away on the next match.
"But I'm not worried about that," added Low. "The players all have their feet firmly on the ground and they won't let this win go to their heads."
Argentina and the Netherlands — you have been warned.
Courtesy: By James Masters, CNN