What's your resolution for new year?
After the hangover of Christmas celebrations, as the New Year is slowing nearing with the holiday season already upon us, it's the time to say good bye to the year 2015 and welcome the New Year 2016.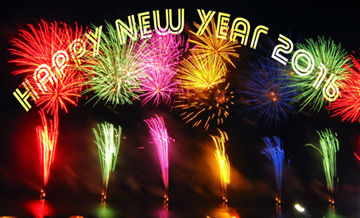 New Year's Day! A fresh start! A new chapter in life waiting to be written. New Year triggers to prepare a long list of DO's and DON'Ts. These DO's and DON'Ts might or might not be successful. Few might be carried over from the previous year's list and few might be new ones. New Year's resolutions are perfect opportunity for all those who have failed to start making the changes that they said they would make next week, next month or perhaps next year.
If you are anything like me, your new year's resolution list must be ready by now. 'My goal for 2016 is to accomplish the goals of 2015 which I should have done in 2014 because I promised them in 2013 and planned in 2012'. This is a thought that is popping up in our Whatsapp images from past few days! Am sure many will have this very same goal.
Changes are at some times in our life, we have made a New Year's resolution and then broken it. How crazy is that? Why do we make New Year's resolutions and not effectively follow them? Is it because we are lazy and not that well committed to follow them as much as we are when we make the resolutions? Or is it the all time thought 'Resolutions are meant to be broken' that rings in our minds? We need to ponder on it and self realize.
We love to make New Year's resolutions even if we seldom keep them. Our most common resolutions are to lose weight, maintain diet, develop healthy habits, quit smoking, getting organized, exercise regularly, wake up early in the morning and many more necessary ones to develop healthy lifestyle. It's difficult to suddenly jump on to the resolutions framed, but it's not impossible. One must have the interest and strong determination to inculcate them, as the major reason to frame the resolutions is to bring out the positive side of us and let go the negatives. They are a way to quantify what we wish for ourselves. They are a means to catalogue our personal dissatisfactions. And, perhaps most importantly, they are a method of erasing errors of the past year.
However silly or serious the resolutions may be, it is important to remember that the New Year serves as a catalyst for sweeping character changes. It is a time for people to reflect on their past year's behavior and promise to make positive lifestyle changes. Sometimes, it is a small thing that makes a big difference. By making our resolutions simple and realistic, there is a greater chance that we will keep them throughout the year, incorporating healthy behavior in our everyday life.
When I asked my friends and few people around, "Is it true that most people don't keep their resolutions?" I got to discover that answers were equal with both "Yes" and "No."
New Year's resolutions are all about hopefulness. And it's always been that way!
Welcome 2016!
Happy New Year!
Write your feedback to: budkuloepaper@gmail.com
Preetha's earlier posts ⇓