It's Dasara again!!
It's the time again to see Mysuru city with most of its buildings, monuments, circles and streets beautifully lit up with vibrant light designs. It's the time again to feel the glory and heritage of the city. It's the time again to enjoy and hang out with family and friends. It's the time again to celebrate. Yes! It's Dasara again!!!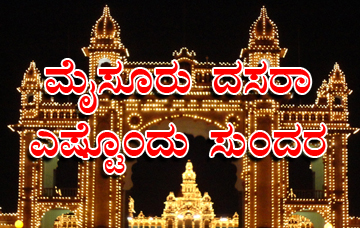 Mysuru Dasara is a Royal festival celebrating victory of Truth over Evil. Legend has its say that the Goddess Chamundeshwari or Durga slew the demon Mahishasura on Vijayadashami day. Dasara is a 10-day festival culminating on Vijayadashami or tenth day. This day marks the successful conclusion of the preceding nine days called as Navarathri.
As the famous Kannada movie song goes 'Mysura Dasara yestondhu sundara', indeed Dasara is the beautiful season to know and enrich the blend of age old versatile culture and traditions.
Mysuru city called as the 'Cultural capital of the state', 'City of Palaces', 'Heritage city', 'Royal city', 'Cleanest city', 'Cool city', 'City of Parks', 'Paradise for retired people', clearly defines to anybody its uniqueness and richness.
Being born and brought up and residing in Mysuru, and knowing many truth and facts about the city, it always gives me a sense of proud feeling to be called as a 'Mysurean'. The season of Dasara adds up more to my pride. Ah! What a feeling! Am sure all Mysureans will feel the same.
The festivities that take place during the Dasara period add more grandeur to the city. It gives treat to people of all ages, from kids to the elderly. It attracts people of all region and community and foreign lands too. So is the charm of the Dasara season, which makes any common man to participate in many programs and events and give time out from their regular routine.
And so, giving a time out from my regular routine, I geared up myself today, on the first day of Dasara, for a city ride on my white Activa with my best friend – my sister. We well planned the route from our house, so that we can cover most of the major roads and circles in the city and see how differently they are illuminated with less power consuming LED bulbs.
On the way, we came across the Park called 'Kupanna park' which is the venue for the Flower show. It's always been a good attraction exhibiting a countless number of colorful varieties of flowers and plants. Moving on, we saw very majestically and royally lightened Palace, giving a mesmerizing sight. We spent some time in the Palace premises admiring the creation.
Just opposite to the Palace is the huge exhibition ground called 'Dhodda kere maidaana', which is the venue for the display of various crafts and articles and also for fun fair with games and food stalls. A good place to hang out with friends and family amid a huge crowd. Few kilometers away right behind the Dhodda kere maidaana, one can see the Chamundi Hill. At a particular spot on the hill is where the word 'Suswaagatha' in Kannada and 'Welcome' in English is been set up, in a huge font size using lights. That's a wonderful sight.
A few meters ahead we came across the venue called Kada for 'Food Mela', the favorite and most visited place for foodies like me, to relish the taste of a long list of mouthwatering famous dishes. Yum yum!!
Moving on, we reached the long Royal road (Rajamaarga) an avenue, all brightened and decorated. But that is one intensely traffic jammed road always during this season and poor traffic polices having a tough time whistling phee! phee! Zig-zag and criss-cross ride of ours left most vehicles behind. Any part of Mysore can be reached in maximum of 20 minutes due to less traffic jam in other times, but during Dasara walking is much better than using the vehicles. The city ride on the inaugural day of Dasara gave a kick start to my seasonal hang outs for different programs lined up.
After a tough city ride we could not resist tasting 'Mysuru Masala dosa' while passing through the 'Maylari hotel' and reached home tired and exhausted.
Pics: Preetha DSouza
Preetha's earlier posts ⇓