Let's make Incredible India a developed country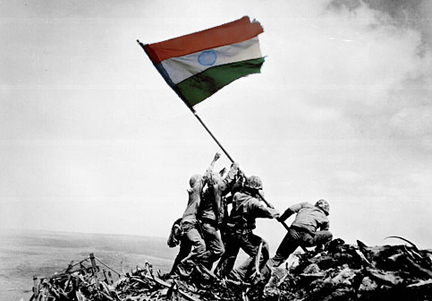 'Inquilab zindabad', 'Jai hind', 'Vande mataram', 'Karo ya maro', 'Chale jaao', 'Aaram haram hai'…….. were the slogans called out and shouted by thousands and thousands, years ago in India. The sacrifice and struggle of millions resulted with a fruit of freedom and independence from foreign rule.
Independence Day is not just a mere day to celebrate and realize our freedom by commemorating the greatness of freedom fighters but a day of virtue and glory to the nation. It's the day of the nation's rebirth.
Before its independence, India was never a single country but a bunch of different entities. Many predicted that India, because of diversities in its cultures, religions, languages, castes, manners, local histories, nationalities and identities, would not survive as a single democratic country, but would break up into smaller countries. Unity and development had to go hand in hand.
Since its independence, India has transformed a lot. When India attained independence in 1947, its population was around 400 million people. Now there are billion people in India. India is the largest democracy in the world. It has the biggest number of people with franchise rights and the largest number of political parties.
With all the loop holes and drawbacks in few sectors of the Indian system, the country is taking its own sweet time to catch up with the developed world. Although some have a high opinion of India's growth story since its independence, while some others think the country's performance in the six decades has been abysmal. Service sector growth, growth of agriculture sector, infrastructure development, progress in education sector, achievements in the field of healthcare and scientific achievements are adding feathers to developing India.
Being in the route of development, India has to retain its varied culture, heritage and traditions for which it is known from ages. Construction and destruction of the country lies in the hands of its citizens. So, it becomes the duty of every citizen to love the country for what it is and how it is, and make it a better place to live in retaining its glory.
By 2020, India is set to become the world's youngest country with 64 per cent of its population in the working age group. Our former president late Dr. APJ Abdul Kalam has given a brief insight and has set up a target for all the youth in India about the ways to develop India by 2020 in his book 'India 2020'. He has also said that it should be the dream of all citizens to see India a developed country, only then the dream would come true. As we approach 2020 in no time, on this occasion of Independence day, let us dream and motivate ourselves and be inspired by the great people of our soil, in making Incredible India a developed country with its richness and glory retained and cherished.
Happy Independence Day !!!