Highlights of the Union Budget 2014-15
Following are the highlights of the Union Budget 2014-15 presented by Finance Minister Arun Jaitley in Parliament today:
* Income tax exemption limit raised by Rs 50,000 to Rs 2.5 lakh and for senior citizens to Rs 3 lakh
* Exemption limit for investment in financial instruments under 80C raised to Rs 1.5 lakh from Rs 1 lakh.
* Investment limit in PPF raised to Rs 1.5 lakh from Rs 1 lakh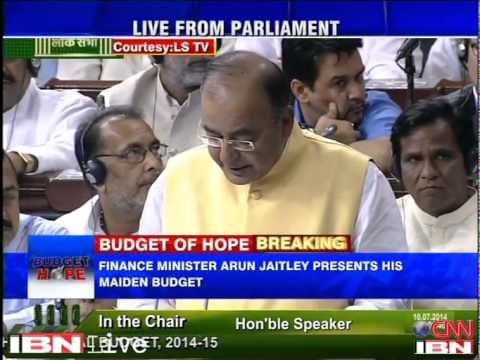 * Deduction limit on interest on loan for self-occupied house raised to Rs 2 lakh from Rs 1.5 lakh.
* Committee to look into all fresh tax demands for indirect transfer of assets in wake of retrospective tax amendments of 2012
* Fiscal deficit target retained at 4.1 pc of GDP for current fiscal and 3.6 pc in FY 16
* Rs 150 crore allocated for increasing safety of women in large cities
* LCD, LED TV become cheaper
* Cigarettes, pan masala, tobacco, aerated drinks become costlier
* 5 IIMs to be opened in HP, Punjab, Bihar, Odisha and Rajasthan
* 5 more IITs in Jammu, Chattisgarh, Goa, Andhra Pradesh and Kerala.
* 4 more AIIMS like institutions to come up in AP, West Bengal, Vidarbha in Maharashtra and Poorvanchal in UP
* Govt proposes to launch Digital India' programme to ensure broad band connectivity at village level
* National Rural Internet and Technology Mission for services in villages and schools, training in IT skills proposed
* Rs 100 cr scheme to support about 600 new and existing Community Radio Stations
* Rs 100 cr for metro projects in Lucknow and Ahmedabad
* Govt expects Rs 9.77 lakh crore revenue crore from taxes
* Govt's plan expenditure pegged at Rs 5.75 lakh crore and non-plan at Rs 12.19 lakh crore.
* Rs 2,037 crore set aside for Integrated Ganga Conservation Mission called 'Namami Gange'.
* Kisan Vikas Patra to be reintroduced, National Savings Certificate with insurance cover to be launched
* FDI limit to be hiked at 49 pc in defence, insurance
* Disinvestment target fixed at Rs 58,425 crore
* Gross borrowings pegged at Rs 6 lakh crore
* Contours of GST to be finalised this fiscal; Govt to look into DTC proposal.
* 'Pandit Madan Mohan Malviya New Teachers Training Programme' launched with initial sum of Rs 500 crore
* Govt provides Rs 500 crore for rehabilitation of displaced Kashmiri migrants
* Set aside Rs 11,200 crore for PSU banks capitalization
* Govt in favour of consolidation of PSU banks
* Govt considering giving greater autonomy to PSU banks while making them accountable
* Rs 7,060 crore for setting up 100 Smart Cities
* A project on the river Ganga called Jal Marg Vikas for inland waterways between Allahabad and Haldia; Rs 4,200 crore set aside for the purpose.
* Govt proposes Ultra Modern Super Critical Coal Based Thermal Power Technology
* Expenditure management commission to be setup; will look into food and fertilizer subsides
* Impasse in coal sector will be resolved; coal will be provided to power plants already commissioned or to be commissioned by March 2015
* Long term capial gain tax for mutual funds doubled to 20 pc; lock-in period increased to 3 years
* Rs 4,000 cr set aside to increase flow of cheaper credit for affordable housing to the urban poor/EWS/LIG segment.
* EPFO to launch the 'Uniform Account Number' service to facilitate portability of Provident Fund accounts
* Mandatory wage ceiling of subscription to EPS (Employee Pension Scheme) raised from Rs 6,500 to Rs 15,000
* Minimum pension increased to Rs 1,000 per month
* War memorial to be set up along with a war museum; Rs 100 crore set aside for this
* Income from foreign portfolio investors to be treated as capital gains
* Investment allowance to manufacturing companies, to incentivise small entrepreneurs
* Rs 100 crore for development of organic farming * Indian Custom Single Window Project to be taken up for facilitating trade
* Clean Energy cess increased from Rs. 50/ tonne to Rs 100/tonne
* Excise duty on footwear reduced from 12 pc to 6 pc
* Net effect of direct tax proposals is revenue loss of Rs 22,200 cr
* Tax proposals on indirect tax front would yield Rs. 7,525 crore
* Free baggage allowance increased from Rs 35,000 to Rs 45,000
* PSUs to invest to over Rs 2.47 lakh crore this fiscal.
Courtesy: www.timesnow.com