Netherlands defeats Brazil 3-0 in World Cup third-place match
Brazil began the 2014 World Cup as a heavy favourite, but ended the tournament in dismal fashion losing 3-0 to the Netherlands in the third-place game Saturday.
The host country continued its shaky defensive play and giving up 10 goals in its final two games, while managing a to soccer just a single goal.
Brazil fell behind early after Robin van Persie scored on a penalty kick three minutes into the match after Arjen Robben was brought down in the box by Brazil captain Thiago Silva.
Daley Blind added a second goal for the Dutch side in the 17th minute after defender David Luiz failed to clear the ball, which landed at the foot of Blind near the penalty spot who put the ball past goaltender Julio Cesar.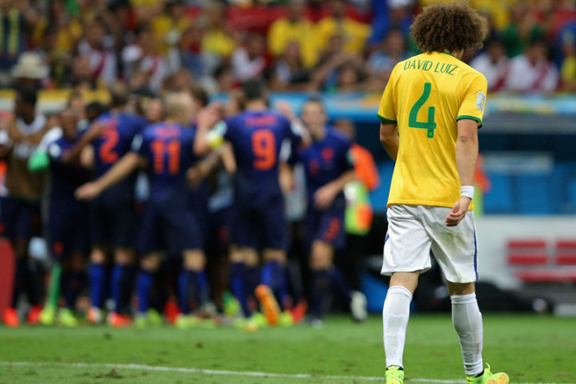 Georginio Wijnaldum added to the win with a goal in injury time.
"The most beautiful was our resilience. We were knocked out but we came back and finished third," Wijnaldum said. "We wanted to close it out well."
Both teams had hopes of reaching the final, but had to settle for a game the doesn't mean more than pride for the two sides.
Neither team even wanted to play the consolation game with the Dutch coach criticizing the match as meaningless and "nothing whatsoever to do with sports."
The Netherlands, who was eliminated by Argentina on penalties, became the first Dutch squad in history to finish a World Cup without a loss in regular time.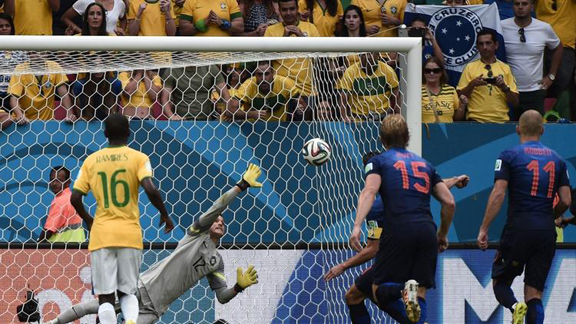 Meanwhile, Brazil – who suffered a humiliating 7-1 defeat at the hands of Germany –  failed to redeem themselves in front of the home crowd.
Brazil welcomed the return of captain Thiago Silva to the lineup who missed the semifinals due to a yellow card suspension. Silva's absence was cited as one of the reasons for Brazil's complete breakdown in the back field, but didn't seem to help his team in their final match.
Brazil's star striker Neymar, who finished the tournament with four goals, watched his team continue to struggle from the bench. Neymar fractured a vertebra after being kneed in the back in an earlier match against Colombia.
Coach Luiz Felipe also added right back Maxwell, and striker Jo to the lineups along with midfielders Willian, Ramires and Paulinho.
On the Dutch side, coach Louis Van Gaal made just one change to his lineup replacing Nigel de Jong, who earlier in the tournament had a groin injury, with Jordy Clasie. This is Van Gaal's final match with the Netherlands before joining Manchester United.
The World Cup final goes tomorrow with Germany taking on Argentina, led by football superstar Lionel Messi.
Courtesy: www.globalnews.ca