26-9-2014: GVOM 4 Semi Final in Dubai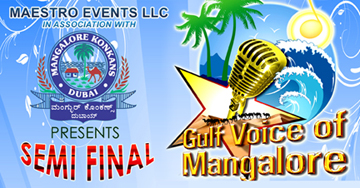 Mangalore Konkans Dubai, the leading Socio-Cultural organisation in UAE will be holding the semi final round of Gulf Voice of Mangalore Season 4 on 26th of September 2014, at 5:40 in the evening at Emirates Theatre – Emirates International School Dubai, Jumeirah (Al Thanya).
The following singers are qualified to the semi finals.
Female Category: Joshal Sweeda D'Souza, Jane Baretto, Nisha Sequeira, Vinola Sequeira, Fabella Anugraha Pinto, Sharon Rego
Male Category: Melwyn Antony D'Souza, Vincent Rodrigues, Brian Fernandes, Alwyn Mendonca, Anil Thimothy Mascarenhas Jeevan Vas
A single winner from each category will have an opportunity to represent UAE in the Finals that will be held in Muscat, Oman on Friday 7th November 2014.
The event will feature some of the top Konkani Music talents as judges which includes household names like 'Yodeling King' Melwyn Peris, 'Melody Queen' Anitha D'Souza and 'Guitar King' Alwyn Fernandes.
Added Attractions:
Besides the singing competition, judges themselves will be performing their favorite songs. The event will also host Melodia Choir from Dubai, with their beautiful rendering of Konkani Songs. Feat Beat Group will feature their dancing talents in the event.
Music for the event will be provided by Ramiro Band. Sound & Lighting by Broadway.
Roshan D'Silva and Rowena Pereira will compere the event.
Those keen to attend this exciting event are  requested to buy entry tickets well in advance which are priced at AED. 30/- or AED. 50/- or AED. 100/-. Walter Peris on 050-455-3265 and Roney D'Cunha on 050-658-8383 can be contacted for bookings.