Rail Budget: Focus on security, amenities, bullet & high-speed trains
New Delhi: Railway Minister Sadananda Gowda announced a slew of new measures including the much-hyped bullet train in the maiden Railway Budget of the Narendra Modi government. Emphasising on passengers' safety, amenities and new facilities, Gowda also endorsed last month's fare hike on Tuesday saying it was tough, but necessary to improve Railways' health.
He justified the hike saying the expenditure on several things including amenities, hygiene and safety is such that the fares have to be hiked for getting the Railways back on track. Private investment, bullet train, Diamond Quadrilateral of high-speed trains, and modern facilities were some of the highlights of Gowda's Rail Budget.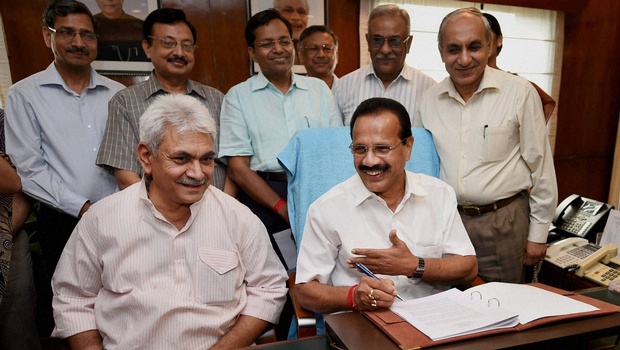 Gowda announced a bullet train and high speed trains between major stations. While the bullet train has been proposed on the Mumbai-Ahmedabad route, he also announced high speed trains on 9 routes including Delhi-Agra, Delhi-Chandigarh, Delhi-Kanpur, Kanpur-Nagpur and Mysore-Bangalore-Chennai with an increased speed of 200 kmph. He announced the formation of a Diamond Quadrilateral network of high speed trains between the metros.
Just like his predecessors, Gowda also introduced many new trains. The already burdened network will run 58 new trains including 5 Jansadharan, 5 Premium, 6 AC, 27 Express, 8 Passenger, 2 MEMU and 5 DEMU trains and 11 train extensions. In addition, he also proposed rail connectivity to 'chaar dham' in Uttarakhand, saying rail network to Kedarnath and Badrinath has been explored.
Focusing on security he said RPF personnel will be deployed on stations and trains. Gowda said these would include 4,000 women RPF personnel to ensure the safety of women passengers. He said the women RPF personnel will be deployed in women coaches of trains.
He also stressed upon the need for private investment in the railways focusing on the Public-Private Partnership model. Gowda also proposed Foreign Direct Investment in all other sectors in the Railways except for operations.
Gowda also proposed new passenger amenities, which have been a challenge for the Railways over the years. Foot-over bridges, escalators, sufficient water supplies at stations, toilets at stations and battery operated cars for the differently-abled were among the amenities proposed by Gowda. He added that cleanliness services can be outsources to provide better services.
He also proposed workstations in some trains on payment basis for enabling people to work while travelling. He added that a pilot project will begin this year.
Talking about hygiene, Gowda proposed ready to eat meals of various brands on board trains. He said that if the food does not match the quality standards, severe action will be taken including cancellation of licence of the brand. He also proposed serving of regional food on trains, the pilot project of which will begin between New Delhi-Chandigarh and New Delhi-Jammu Tavi.
Gowda also proposed setting up of a Railway University for technical and non-technical subjects. He also said that summer internships will be provided in the Railways to engineering undergraduates.
Bringing no relief in fares after last month's 14 per cent hike, Gowda said that the tariff policy lacked rational approach over the years. He said that UPA government's railway projects were populist in nature and therefore, have left the Railways in the shambles.
Gowda also spoke of expanding the scope of online booking system. He also proposed ticket vending machines on stations for train tickets. Other services proposed in the Narendra Modi government's maiden Rail Budget include wake-up calls for passengers, station alerts and maps.
Courtesy: www.ibnlive.com